Boston Voyager Internew
Monday, July 24, 2017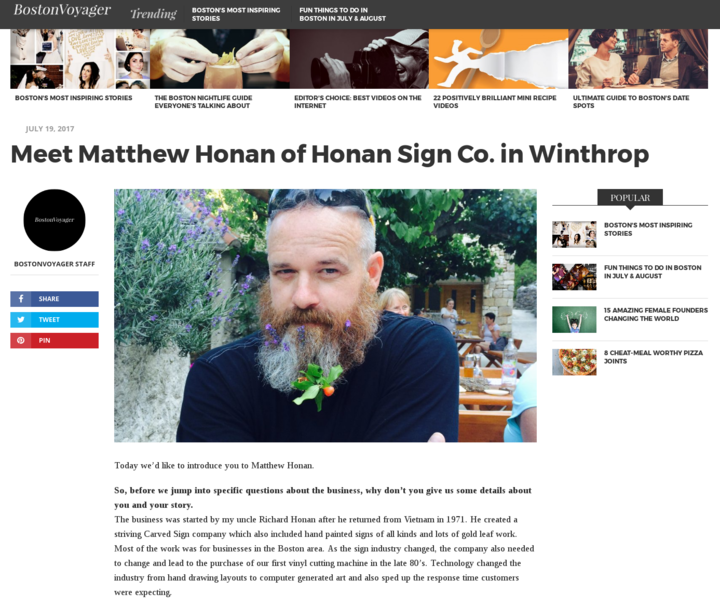 An interview with Matt Honan at
Boston Voyager
.
Excerpt:
Today we'd like to introduce you to Matthew Honan.

So, before we jump into specific questions about the business, why don't you give us some details about you and your story.
The business was started by my uncle Richard Honan after he returned from Vietnam in 1971. He created a striving Carved Sign company which also included hand painted signs of all kinds and lots of gold leaf work. Most of the work was for businesses in the Boston area. As the sign industry changed, the company also needed to change and lead to the purchase of our first vinyl cutting machine in the late 80's. Technology changed the industry from hand drawing layouts to computer generated art and also sped up the response time customers were expecting.

I joined the company in 1991 after attending UMass Amherst with a degree in Mass Communications. Although I had a degree I didn't have a clear direction for a career and was more interested in travel than anything else. Honan Sign Co was busy and my uncle invited me on board to help with a new type of sign that they had developed to help with the growing coffee industry. We were for the most part making Menu Systems for likes of Au Bon Pain, The Coffee Connection, Starbucks Coffee and Caribu Coffee to name a few. These types of jobs lead to a large increase in vinyl lettering and printed graphics and a decrease in hand painted signs.